People will have been saddened to hear of the death of 88 year-old Philip Johnson in January 2017. The business has been part of the Brampton scene since 1888, moving to its present site in 1898 when it became a general ironmongers. It had been owned by Philip Johnson since 1952. This appreciation appeared in Reflections Magazine in September 1996.
Over the years, Johnson's has supplied the people of Brampton and beyond with the spades that dug for Victory, the oil that burned in the blackouts and during the coal and power strikes, the pots and pans, the baking trays and the tea trays that carried food to every table, the clothes lines, the pegs and the clothes post, and even the pen-knife in a young lad's Christmas stocking – all and every sort of goods for all and every sort of customer.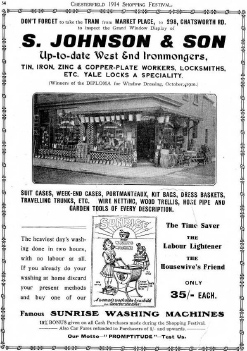 This advertisement appeared in the catalogue for the Shopping Festival of 1914. Notice the advertisement for the Sunrise washing machine – 'A woman's work done by a child in a quarter the time'.