Meetings are held at St Thomas Centre, Chatsworth Road, Chesterfield, S40 3AW and start at 7:30 pm unless otherwise stated. There are no meetings in December or January.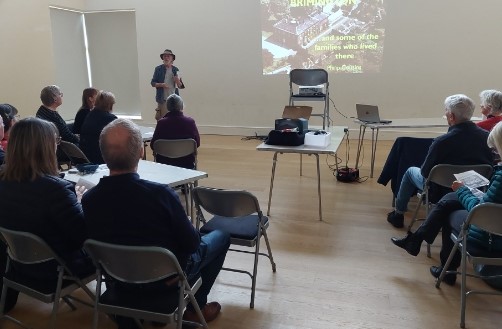 There is usually a talk or presentation on a subject about, or related to, the history of Chesterfield and surrounding districts.
Admission is free for members and for visitors the charge is £3. Free parking is available on site or on neighbouring streets.
Doors normally open from around 7pm for a 7.30pm start and there is an opportunity to obtain light refreshments before and after our presentation (50p per cup of tea or coffee).
Our 2024 meetings programme is available to download as a pdf at the bottom of this page.
Our 2023 meetings programme has now finished. Many thanks for your support during the year. We do not hold meetings in December or January. Our next meeting will be in February 2024.
Our 2024 meetings are as follows:
---
January – no meeting
---
February 19 – Brief AGM followed by Philip Cousins – Chesterfield in the 1980s.
Philip will be presenting a new selection of photographs, most previously unseen, from the 1980s, concentrating on Chesterfield town centre. A brief AGM will take place before the talk – all are welcome to attend both segments of the evening.
---
March 18 – Alan and Christine Piper – Lumsdale Mills
Lumsdale is a 'hidden valley' in Matlock. Perhaps unknown by many, it never-the-less has a fascinating history ranging from 17th century lead smelting, through to corn milling, wool fulling, cotton spinning and bleaching. In this talk Alan and Christine will tell us about this fascinating history.
---
April 15 – Rod Auton – History and Future of the Chesterfield Canal
Rod is a leading member of the Chesterfield Canal Trust and until recently edited their magazine 'Cuckoo'. He will be looking at the history of the canal, its decline and more recent restoration, as well as giving us a taste of what the future is for this important recreational facility might hold.
---
May 20 – Cliff Lea – Industries of Brampton along the River Hipper
Cliff Lee has studied the industrial archaeology and history of the area for many years. In this presentation Cliff will take us on an authoritative journey along the river Hipper, in Brampton, looking at its many industries.
---
June 17 – Beth Robson – History of St. Thomas' Church, Brampton.
Beth Robson is a leading member of the congregation at St Thomas' Church and has researched and published its history. It is, of course, our meeting venue (though we use the adjacent parish centre), so if you've ever wondered what is behind its history here's a opportunity to find out more.
---
July 15 – Richard Godley – Zeppelins Over Sheffield.
Richard Godley of the Sheffield Zeppelin Study Group will be examining the perhaps forgotten Zepplin raids over Sheffield, which occurred in 1916.
---
August 19 – Philip Riden – Finding the way: a new look at some old roads.
In this new talk Philip Riden will look at the network of old roads in the area with some new theories on routes and their various histories.
---
September 16 – Philip Morris – A History of Old Whittington, its church and people
Philip has a particular interest in Old Whittington Parish Church (he is married to the Rector!), and may be familiar as the face behind the extensive and ever growing annual local history exhibition in the church. In this new talk he will be giving us the benefit of his extensive research and knowledge into not only the church, but also some of the people and the history of the parish.
---
October 21 – Byron Machin – Stone Circles of the Peak District
Byron visited us in October 2023, when he gave us a talk on mining in the county and the Peak District. In this talk he will tell us about the stone circles present in the same area. have you ever passed by Arbor Low and wondered what was its history? You'll be able to find out more about this stone circle and others in this talk.
---
November 18 – Jamie Mather and Diane Palmer – Wingerworth Sawmill
What is the history behind a long-forgotten and now demolished sawmill at Wingerworth? Extensively excavated and researched by our colleagues in the North East Derbyshire Industrial Archaeology Society Jamie and Diane will be talking about the research findings in this talk.
---
December – no meeting.
---
Download our 2024 meetings as a pdf programme by clicking on the button below.
---
Page last updated: 24 November 2023.