Welcome to this page of our Chronology of Chesterfield's History section of our website. Here we cover the period 1800 to 1899.
Although we revised this page in March 2023, we are currently working on an enhanced version, which we hope to publish in the coming months.
Click on the links below to take you to our other chronology sections
Sources used in compiling our chronology are listed in the introduction
---
Chronology of Chesterfield's History 3: 1800 to 1899
1800 Quakers' Meeting-house enlarged.
1800 Dispensary established, [but according to contemporary directories 'no building has been erected for its use'].
1800 Literary and Philosophical Society established.
1801 Chesterfield contained 895 houses, and 4267 inhabitants; viz. 1929 males, and 2338 females.
1803 (December) Chesterfield became a depot for French prisoners and continued so till the peace in 1814.
1808 (August 31) The first [horse racing] race day at night, some thieves picked the lock of the door opposite the clerk's house, went down the north aisle, picked that lock at the bottom, tried the chancel door opposite, which was bolted inside; they then picked the other chancel door lock, and the vestry, four double locks on the chest padlocks, wrenched two clasp locks open, (which they could not pick) with the sexton's pick-axe, drank one bottle of wine, and took four with them; took the two silver cups, the large salver dish, and the small plate, and got clear off the same way; but left the two large flagons in the chest.
1811 Chesterfield contained 976 houses, and 4,591 inhabitants; viz. 2140 males, and 2451 females.
1814 National school erected. Opened May 1815 [Situated on Soresby Street – now demolished]
1814 Vaccine institution established.
1816 (April) Savings' bank established.
1817 Church spire supposed to be in danger of falling.
1817 (August 3) Baptist church established.
1818 (January) Vestry meeting called for the purpose of considering whether the spire of the church should be taken down. This was opposed by some residents, with another inspection of the spire undertaken, which concluded only minor repairs were required. [Fortunately the repair recommendations were adopted and we still have a spire today!]
1819 Another writer in the Gentleman's Magazine (see 1777) is much more gracious to the town, describing the parish church as 'spacious and handsome … remarkable for the appearance of its spire … and is so singularly twisted and distorted that it seems to lean in whatever direction it may be approached'.
1819 (April 3) Agricultural Society established which evolved into the Bakewell Agricultural and Horticultural Society).
1819 Girls School of Industry erected. – Lancasterian School for Girls [situated on Holywell Street – now demolished]
1819 There were 938 children in education
GEORGE IV
1820 New peal of ten bells put up in the tower of the church.
1821 Chesterfield contained 1048 houses, and 5077 inhabitants; viz 2345 males, and 2732 females.
1822 The Rev. Thomas Hill inducted as vicar of Chesterfield.
1822 Methodist chapel [Saltergate] enlarged.
1822 Independent chapel erected on Soresby Street. [Now Rose Hill URC]
1823 Unitarian chapel enlarged, and organ erected.
1823 Hall's history of Chesterfield published.
1824 North-east side of the church-yard enlarged.
1824 Joseph Bower erects a gas light to which he supplies gas from his nearby workshop beneath the Cathedral Vaults public house in the Market Place. [The lamp standard is later moved to Packers Row and now resides in the parish church yard].
1825 (May 25) Act obtained for lighting Chesterfield with gas, and supplying it with water. [A private company was formed to undertake this].
1825-6 Corporation baths erected (Derby Lane)
1826 Gas works erected by gas and waterworks company at the bottom of Foljambe Road.
1826 Benevolent Society instituted.
1826 A survey of the borough of Chesterfield is made by Mr. Glossop, of Whittington, with a view to the formation of a new rate.
1828 Market Place enlarged, by taking down a range of buildings, which separated it from the New Square, formerly called the Swine's-Green.
1828 (January) Chesterfield Gazette newspaper established.
1828 Derbyshire Courier newspaper established
1828 Chancel of the church first lighted with gas.
1829 Infant School erected.
1829 Suit instituted in chancery against the corporation, as trustees of the Free Grammar School.
1829 Chesterfield troop of yeomanry cavalry disbanded.
1829 Ringing of the church bells at the races discontinued, by order of the vicar.
1830 (June 25) Chesterfield 'visited by the most tremendous storm ever remembered', according to Ford.
WILLIAM IV
1830 Infant school on Holywell Street erected.
1830 New race-stand erected [on what is now Stand Road].
1830-31 New church of St Thomas, Brampton constructed.
1831 Midsummer sessions transferred from Chesterfield to Derby, and Easter sessions removed to Chesterfield.
1831 School rooms for Sunday scholars erected on the ground adjoining the Unitarian chapel.
1831 Mr. Roberts's news room established. There had been coffee rooms at the principal inns in the town, for more than half a century before this time; but no general news room.
1831 Chesterfield contained 1208 houses, and 5775 inhabitants; viz 2665 males, and 3110 females.
1831 (August) Mr. R. R. Hurwood and Mr. Josiah Brown, inhabitants of Chesterfield, lost in the wreck of the Rothsay Castle steam packet, off Puffin Island.
1832 Board of Health established, in consequence of the alarming ravages made by cholera in the neighbouring towns. Not a single case occurred at Chesterfield.
1832 Tapton and Spital bridges rebuilt, the old ones having been partially washed away by a flood.
1832 (October) Their royal highnesses, the Duchess of Kent and Princess Victoria, passed through Chesterfield, on the way from Chatsworth to Hardwick.
1832 (December) First contested election for North Derbyshire. Candidates, Lord Cavendish; Thomas Gisborne, Esq.; and Sir George Sitwell.
1832 Parish of St Thomas Brampton formed from that of Old Brampton and Chesterfield including Holymoorside, Walton and part of Newbold.
1833 (December) E. Rushton, Esq., commenced his examination at the Town Hall, into the charters, management, &c., of the corporation, under the commission of inquiry issued by his Majesty, William IV., for that purpose.
1834 (January 1) Chesterfield and North Derbyshire Banking Company commenced business.
1834 (January 20) Meeting of prominent townspeople held at the Independent Chapel to seek the removal of the restrictions on Nonconformists
1834 (August 17) Galleries in Soresby Street Chapel opened.
1835 Actual value of the vicarage of Chesterfield £204: previously valued in the King's books at £15. 0s. 2½d, and yearly tenths at £1. 10s. 0½d
1835 Horticultural Society established, which lived only for two years.
1835 (November 9) Municipal Reform Act passed, which reconstituted the Corporation. Area 322 acres.
1835 Gilbert Crompton, Esq., the first mayor under the above Act.
1836 (January) North Derbyshire Chronicle newspaper established.
1836 (February 9) First meeting of the new town-council held.
1836 Chesterfield Borough Police Force established
1836 (July 4) Act passed for making the North Midland Railway.
1836 (October 25) New church clock completed, and west dial lighted for the first time with gas.
1837 (March 16) Appointment of trustees for general and church charities confirmed by the Lord Chancellor.
1837 (May 17) First stone of Trinity Church laid on a site given by the duke of Devonshire. The cost when the church was opened was around £3,700.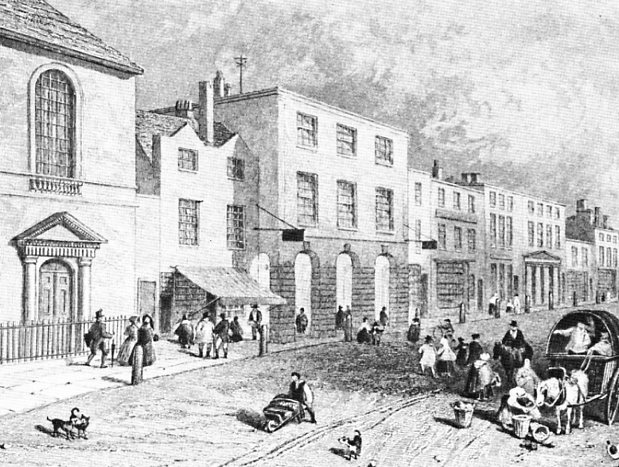 VICTORIA
1837 (October 12) First guardians appointed under the Poor-law Amendment Act.
1837 Borough rate revised, according to Act of Parliament.
1838 (January 1) Commencement of new mode of pauper relief in the township of Chesterfield.
1838 (January 18) First marriage in the Unitarian chapel, being also the first marriage in a dissenting place of worship at Chesterfield under the new act.
1839 Fire brigade established.
1839 Chesterfield Poor Law Union constructs work house on Newbold Road at a cost of £10,000. [Later becomes Scarsdale Hospital. The central and original workhouse block remains – now used as apartments].
1839 John Robinson began manufacturing pill boxes at Wheatbridge.
1839 Ford's history of Chesterfield, as it has become known, published in book form. [Of around 500 pages it becomes the standard reference work for the history of the area until the 1970s. It may not have been written by Ford].
1840 Opening of the North Midland Railway (later the Midland Railway). [This route went via the Rother valley to Rotherham Masborough station. The direct route to Sheffield did not open until 1870. Both the 'old road' (Rother valley route) and the Sheffield line are still open today].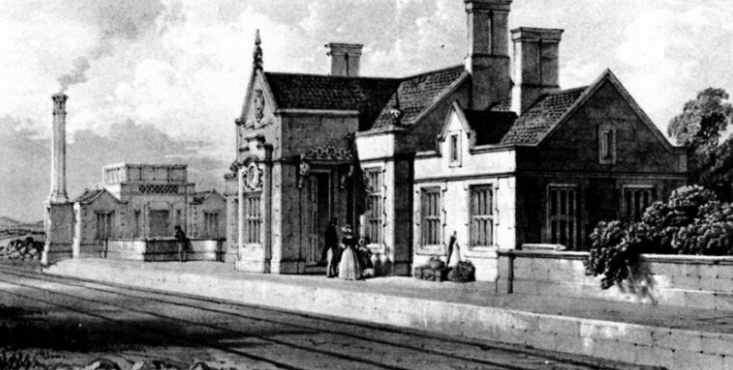 1841 Census 6212 inhabitants. Houses 1331.
1841 Chesterfield and Brampton Mechanics Institute formed. [Initially on Packer's Row but White's dir Derb reported in 1857 that it was 'about to be removed to the New Market Hall].
1841 Wesleyan School, Froggatt's Yard opened [now demolished].
1842/3 Parish Church closed for nine months to allow for renovation of the interior. Old box pews removed, the organ moved, nave roof lowered, plaster ceiling removed, and interior much opened out. North and south galleries set back from pillars and chancel arch gallery removed. All at a cost of around £5,000. Sir George Gilbert Scott (senior) was the architect.
1844 British School for boys opened Hollis Lane.
1845 Victoria National Schools opened on Vicar Lane.
1847 Grammar School rebuilt, approximately on the site of the former buildings.
1847 Municipal Hall built [Beetwell Street – demolished in the early 1970s for road widening].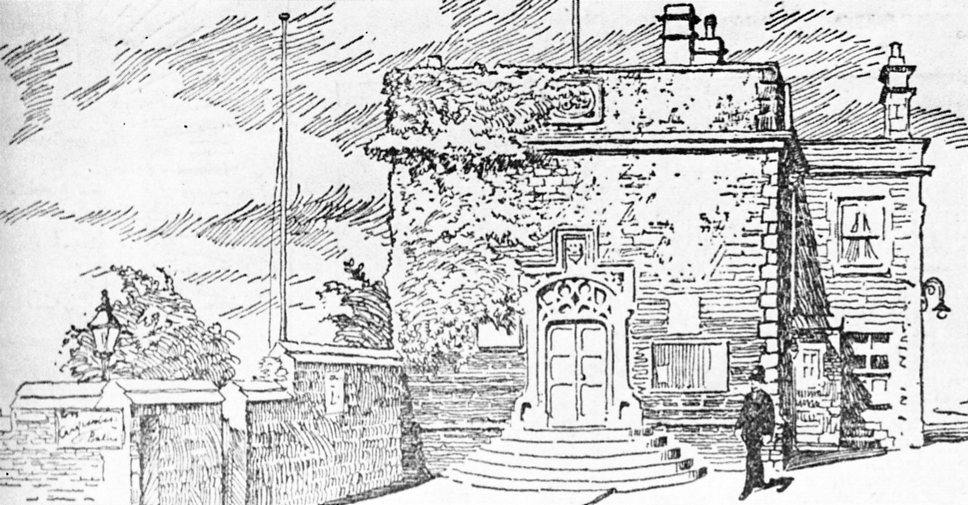 1847 Canal company taken over by the Manchester, Sheffield and Lincolnshire Railway.
1848 Primitive Methodist Chapel opened (Beetwell Street).
1848 George Stephenson died. Buried within Trinity Church.
1851 Census 7101 inhabitants.
1851 Religious Census shows that more people attended nonconformist services rather than those of the Established church.
1854 Derbyshire Times and Chesterfield Herald newspaper first published.
1854 Catholic Church of the Annunciation built on Spencer Street.
1855 Gas and water company capital increased.
1856 Sometime around this date the chancel is added to the Church of the Annunciation.
1856 – Firths (of Sheffield) purchase land at Whittington and set up works there.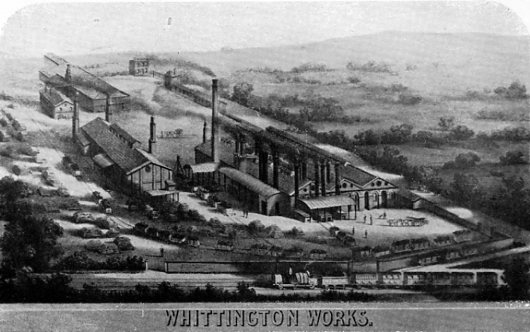 1857 Market Hall opened by the Chesterfield Market Hall Company who had been formed in 1853. Total cost of building about £8,000; Messrs Davis and Tew of Chesterfield the architects.
1857 Spital Cemetery opened by the Chesterfield Burial Board at an initial cost of £6,000.
1859 New Hospital begun (Holywell Street).
1859 Tenement and garden adjoining the Church of the Annunciation, called Cricketer's Arms Inn conveyed to representatives of the Catholic Church. The property was later converted into school for the church.
1860 Congregational Chapel, Soresby Street, enlarged.
1861 Census 9,886 inhabitants.
1861 Baptist Church Brewery Street established.
1862 Baron de Comin disturbances.
1862 Sheepbridge Iron Works opened.
1862 Parish church yard enclosed and railed round. Trees planted.
1863 Staveley Coal and Iron Company incorporated – one of the first to be registered under the Act of that year.
1864 Charles Markham (senior) director of the Staveley Coal and Iron Company.
1864 The Sheepbridge Coal & Iron Company established.
1865 Infant and junior schools associated with the Catholic Church of the Annunciation formally opened on ground acquired in 1859.
1866 Local Government Act adopted.
1868 New clock on the Market Hall donated by the Duke of Devonshire.
1868 Ladies allowed municipal privileges for the first time.
1868 Improvements to The Catholic Church of the Annunciation. Presbytery built to designs of Samuel Rollinson.
1869 Science classes introduced.
1869 United Free Methodist Church, Marsden Street opened at a cost of £3,300.
1869 Christ Church Stonegravels – a chapel of ease to Holy Trinity Church – erected; consecrated September 1870. Architect S Rollinson of Chesterfield.
1869 Christ Church schools, Stonegravels opened.
1869-70 Wesleyan Chapel on Saltergate rebuilt at a total cost upwards of £3,000. [Now the Central Methodist Church see also 1895].
1870 New railway to Sheffield opened [This is the direct line to Sheffield, via Dronfield still open today. A new station was constructed and opened at the same time].
1871 Census 11,925 inhabitants.
1871 First meeting of the School Board. Oversees building of Hipper Street, St Helen's Street, Durrant Road and Brampton schools which follow.
1872 Market Hall purchased by the Council.
1873 Brampton Congregational Church, Chatsworth Road established.
1873 New wing of hospital opened (Devonshire Ward).
1874 Badge and mayoral chain donated to the Council.
1875 Eyre's furnishing business opened [it finally closed in 2022].
1875 Parish church – south transept porch built in 1637 removed, doorway renewed south wall of transept rebuilt and stained glass window inserted.
1875 Local Board at Brampton.
1875 Plowright's established.
1875 Saltergate Alms-houses taken down and rebuilt by the trustees of the Chesterfield charities. Cost provided by benefaction from Johanna, wife of John Boyer of Spital House. 'Inmates' are 11 poor women who received 8 shillings per week.
1876 Chesterfield Savings Bank closed.
1876 Extension to the borough not proved.
1877 Art classes took place at Marsden Street.
1877 East Derbyshire Club formed.
1877 North Derbyshire Banking Company collapsed. [The business was taken over on 8 August 1878 by Messrs Crompton, Evans & Co.].
1877 Foundation stone for the Stephenson Memorial Hall laid.
1877 What later became known as the Chesterfield Hotel – but then known as the Station Hotel opened. [It was extended over a number of years. Situated on Malkin Street, on a coroner site, opposite the Midland Railway station became the most prestigious hotel in the town for many years. It was closed in 2015 and demolished in 2022].
1877 Further enlargements to the Church of Annunciation including the west tower opened.
1878 Ragged School, Wheeldon Lane opened.
1879 Stephenson Memorial Hall opened at a cost of around £13,000, of which £7,500 raised by public subscription, the rest by loans. Architects Smith and Woodhouse of Manchester.
1880 Sewage farm in operation.
1880 Derbyshire Miners Association formed.
1880 Public library opened in the Stephenson Memorial Hall.
1881 Census 12,221 inhabitants.
1881 (September 1) Gas lighting extinguished in the streets.
1881 (October 8) Trial of electric street lighting [instituted by Chesterfield Corporation following a disagreement between the corporation and the gas and waterworks company regarding prices. Two types of lighting were trailed – arc lighting from this date, supplemented with incandescent lighting from October 26].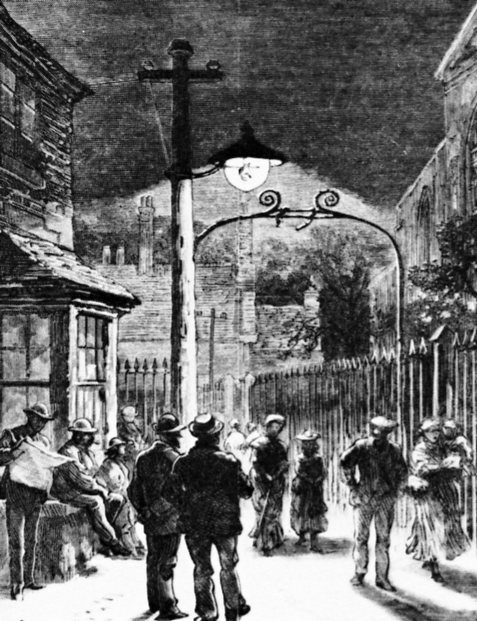 1881 Foundation stone of new Primitive Methodist chapel [Holywell Street – superseding the old building in Beetwell Street].
1881 New organ presented to the Catholic Church by W Arkwright at a cost of £900. Replaced the original organ and said to be a fine example of the work of organ builder Willis.
1882 Horse-drawn tramcars start running to Brampton.
1882 Establishment of horse trams service running to Brampton.
1882 Hipper Leather works destroyed by fire.
1884 (May 1) Gas lighting in the streets of Chesterfield restarted, with electric light discontinued (May 8).
1885 Last tollgate in the district removed.
1885 During alterations to the parish church a Hagioscope is discovered in the wall between St Catherine's Chapel and the Holy Cross Chapel.
1886 New Post Office opened on the High Street [later extended, but now the 'Sorbo Lounge'].
1886 Existing tramways company bought out by a number of Chesterfield gentlemen.
1887 Rural Dean reports that Chesterfield parish church in poor condition 'The fabric needs a very large expenditure of money to make it what it should be. It is fast going to decay.'
1887 (May) Firth's works at Whittington Close. [After laying empty for some years they are finally sold in 1907].
1887 (21 September) First part of the Queen's Park opened following procession from the town.
1888-1890 Telephone system established.
1889 Charles Paxton Markham purchases Broad Oaks works. [The business was in liquidation following the collapse of the owners Oliver & Co.]
1889 Stephenson Memorial Hall transferred from trustees to Chesterfield Corporation.
1889 Trinity Church reopened after restoration and alterations.
1890 Pew rent in the parish church abolished.
1890 The great west window in the parish church unveiled. A gift of CP Markham in memory of his father Charles Markham who had died in 1897. It cost £1,000.
1891 Census 13,242 inhabitants 4,211 houses.
1891 Technical Instruction Committee formed.
1891 New chancel erected at St Thomas, Brampton.
1891 (October 1) Tunnel under the town commenced by the Manchester, Sheffield and Lincolnshire Railway. [Though somewhat reduced in lenth by construction of the Inner Relief Road (see 1985) most of this tunnel survives though it has been disused since the 1960s].
1892 The Manchester Sheffield and Lincolnshire Railway's (shortly afterwards Great Central Railway) 'Derbyshire Lines' railway from Beighton to Annesley opened including a station on Infirmary Road. Though on a branch the Chesterfield station was soon extend to re-join the main line at Heath. This included a tunnel through Chesterfield (see above).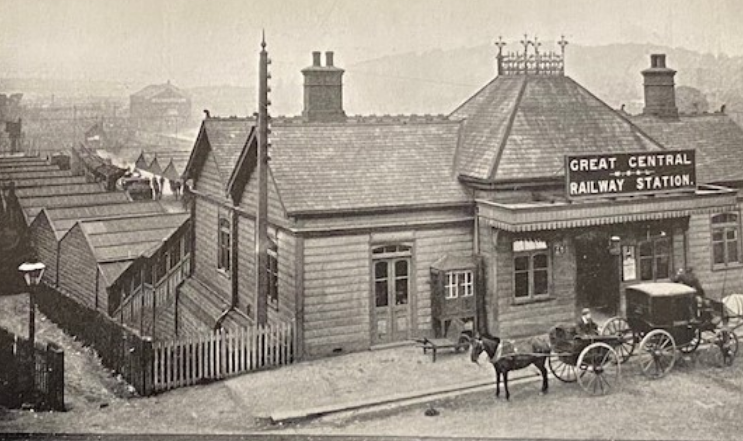 1892 Lancashire Derbyshire and East Coast Railway – cutting of the first sod in Chesterfield.
1892 Boundaries of the Borough of Chesterfield extended to include New Brampton and parts of Hasland, Newbold and Walton. 1300 acres. [Until this time the boundary of the borough had been largely as its medieval pattern].
1893 Queen's Park fully opened.
1894 First cricket match played in Queen's Park.
1893 Miners' hall and headquarters opened on Saltergate.
1893 National Coal Strike led to widespread distress in the town.
1894 Faculty for pulling down the old parish church vicarage.
1895 Chesterfield Gas and Water Board established [took over the private concern of the Chesterfield gas and water works in March 1896 following an unsuccessful attempt by that company to extend its water supply scheme by forming a reservoir across the Hipper near Holymoorside].
1895 Whittington Church extensively damaged by fire.
1895 St Leonard's mission church, Spital and the new Vicarage built. [This new Vicarage was on land behind the present bus stands near the Visitor Centre. It replaced a much older building].
1895 Board of Guardians' offices built next to the workhouse on Newbold Road.
1896 New church of St Bartholomew, Whittington dedicated. Replaced that destroyed by fire.
1896 Parish Hall of St James opened in Vicar Lane. Presented to the parish by Rev Hon. Cecil Littleton then vicar in memory of his mother.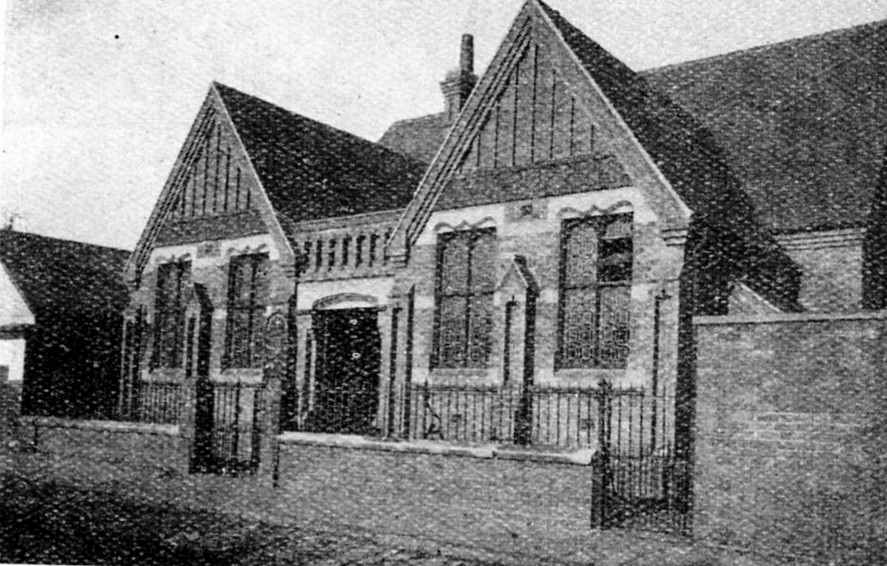 1897 (November 22) Tramways taken over by Chesterfield Corporation. Fares reduced to 1 old penny 'all the way'.
1897 Lancashire Derbyshire and East Coast Railway opened [its station was on West Bars, next to the Portland Hotel. This railway reached neither Lancashire nor the East Coast].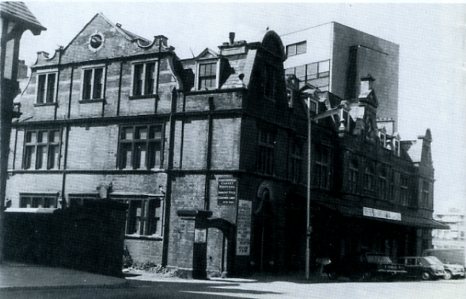 1897 Derby Road Wesleyan Methodist Chapel built.
1897-98 Stephenson Memorial Hall enlarged and redecorated at a cost of about £4,000.
1898 Cricket pavilion erected in Queen's Park for first championship match. Park keeper's house erected.
1898 Norman font discovered in the parish church vicarage garden. Reinstated in the parish church. Spore repaired at a cost of £2,000.
1898 Institute for Holy Trinity Church erected on Newbold Road. Designed by Messrs Rollinson & Son architects, Chesterfield at cost provided by Mrs Mary Marsden.
1898 Drill Hall opened.
1899 Storrs Road Wesleyan Methodist Church built.
Click here for the next section of our chronology.

LINKS TO OTHER CHRONOLOGY PAGES