Here's a small scrap of Chesterfield's history, courtesy of our secretary.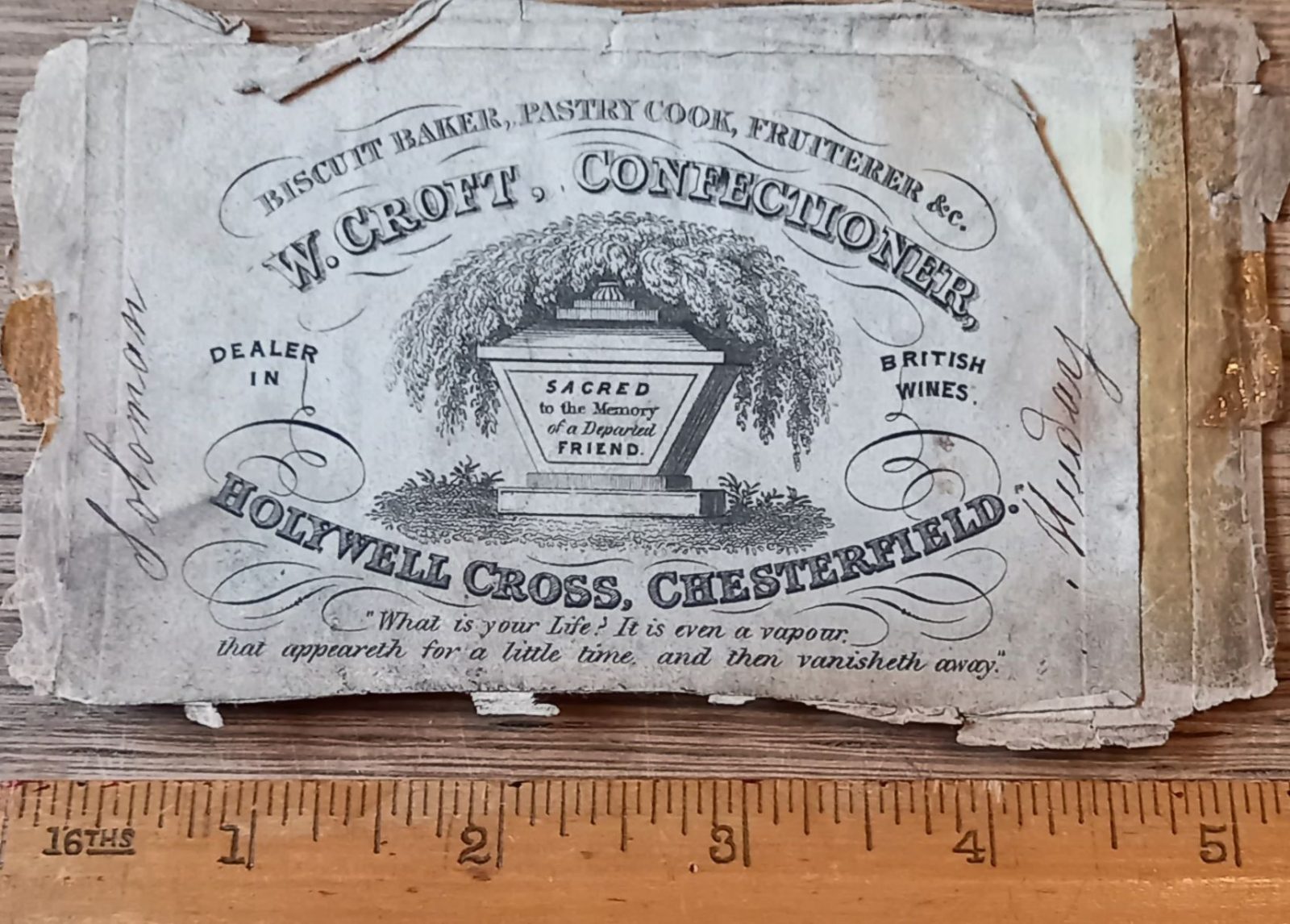 It really is just a scrap of paper, probably simply an advertising flyer designed be given to a recently bereaved family planning a loved one's commemoration.
Notice the inscription; 'sacred to the memory of a departed friend'. There's a matching verse at the bottom of the slip. 'What is your life? It is even a vapour that appeareth for a little time, and then vanisheth away'.
This rare survivor measures about 4½ – inches by 2½ – inches. Down one side is hand-written 'Solomon', on the other 'Munday' – possibly the recipient.
The rear is also intriguing. The printed advertisement is stuck to a slightly larger piece of paper. On it are some notes regarding the Spotwood family. For example 'Rebeca Spotwood Born January 29 1851(?)', and some earlier notes.
Who were the Spotwoods or Solomon Munday for that matter?
Before we get too morbid – we do know that 'Crofts Wm. (British wines), Holywell Cross' is listed in Bagshaw's 1846 directory of Derbyshire under 'confectioners'. In White's 1857 directory he is still listed as a confectioner at Holywell Cross, as well as a 'British Wine' dealer.
British wine is a name for a wine that comprises imported grape concentrate and is then made-up and bottled. It's regarded as a cheap alternative. Perhaps Croft was bottling this wine on the premises – he was certainly selling it, as were three others out of the grand total of nine Chesterfield town centre confectioners in 1857.
Doubtless more research on both William Croft, Solomon Munday and the Spotwood family is possible, but our surviving piece of paper does gives us a little window into the Chesterfield trades and occupations of the past – and the sale of British wine!